Wyoming Big Game Hunting
Deer, Antelope, Elk, Sheep, Black Bear, Mt Goat, Moose, Mt Lion
[rev_slider bliss_creek_outfitters]
Bliss Creek Outfitting and Guide School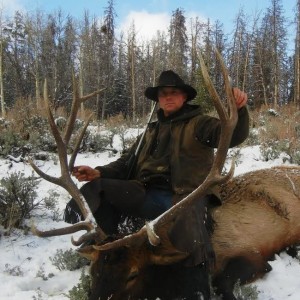 Bliss Creek Outfitters – One of North America's Premier Big Game Outfitters! It won't take long to see the name of this outfitter featured on numerous Outdoor Television Shows such as "Outdoor America", "Bowhunter Magazine TV", "North American Hunter", "American Archer", and "Babe Winkleman's Outdoor Secrets". Bliss Creek Outfitters has over 35 years guiding and working with hunters, and has also been featured in numerous hunting magazines – particularly Bowhunting Magazines.
Put your trust in a True Professional when planning your Wyoming big game hunt!
Bliss Creek Camp, in the Washakie Wilderness of the Shoshone National Forest, consist of wall tents, log beds with comfortable mattresses, wood burning stoves and heated showers. The camp cook prepares delicious, hearty family-style meals in the cook tent while the guide and hunters share stories about the day's hunt.