North Carolina Hunts
Deer, Turkey, Bear, Duck Hunting
About Cutawhiskie Creek Outfitters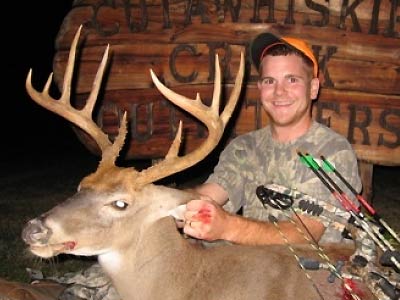 Cutawhiskie Creek Outfitters – located in the best Whitetail Deer hunting area in North Carolina!  We have over 6,100 of private ground to hunt along the Roanoke River Basin.  This area is thick and lush with beautiful views of the countryside.  But Whitetail Deer is not all we offer – enjoy  excellent Black Bear, Turkey, Duck and Goose hunting as well!  Archery and gun hunts are available.
Personalized service and quality hunting experience are our top priorities.  We keep the pressure low and rotate the properties and areas hunted to ensure every hunt is top quality.
Ask about our inshore fishing trips through the summer.  We have a great time catching fish and enjoying the beautiful waters of North Carolina's coast.
North Carolina Hunting Lodge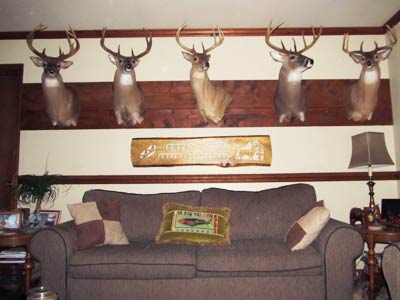 Cutawhiskie Creek Outfitters has a 2 story hunting lodge that can accommodate up to 16 people.  There are 6 single bedrooms, 2 queen bedrooms and a bunk room upstairs.  Linens and toiletries are provided and there is a washer and dryer for convenience.  Hunts are available with or without accommodations.
Our hunters enjoy an easy breakfast, burgers or sandwiches for lunch and a delicious home cooked meal every evening.  Chef Steve is a favorite at CWC!  He is one reason we have so many repeat hunters every year.
North Carolina Deer Hunts

Cutawhiskie Creek Outfitters Whitetail Deer Hunts are full-day adventures.  We start early after a quick breakfast and head out to the stands.  The stands are located in remote areas so hunters are accompanied by the guide to help them locate and settle in place.  Hunters can choose to stay out or come in for a lunch break.  After the evening hunt we all enjoy a delicious meal and catch-up on the day's events.  It is a great time to enjoy some hunting stories and relax.
North Carolina Bear Hunts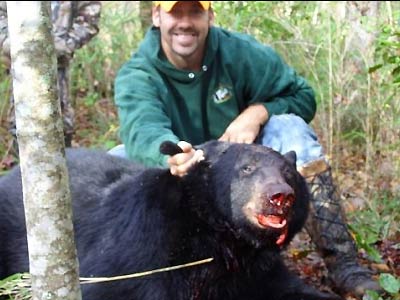 Cutawhiskie Creek Outfitters' Whitetail Hunters enjoy a bear to be taken FREE with the proper tags.  Hunts are conducted over crop fields and most bear are taken in the evening.  There is about a 35% chance, you'll see a good-sized bear.
North Carolina Duck Hunts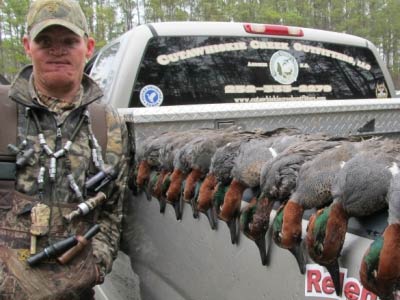 Cutawhiskie Creek Outfitters has some of the best waterfowl hunts around!  Hunts are conducted over marshes and from duck blinds or boat blinds.  We handle all of the set-up and get decoy placement so you can enjoy the hunting!