Find Oklahoma Hunts on the Map
Hunting in Oklahoma
Oklahoma is one of only a few states in the country that has ten or more eco-regions. This kind of diversity makes this state a hunter's paradise. With elevation to the west and wide open spaces to the east, Oklahoma covers all types of terrain.
Oklahoma Hunts Available
While the wildlife is as diverse as the landscape, hunters planning a trip to the Sooner's State generally have one of four animals in mind. Those animals are Whitetail Deer, Wild Hogs, Coyotes, and Wild Turkeys. The Whitetail deer is one of the most popular game animals in the country. They're found almost everywhere, and the amount of research done makes finding tips and information on hunting deer simple. Turkey, Ferrell hog, and predator hunts almost exclusively require an outfitter or a guide. This is because Turkey and hog hunts require information that can only be obtained a day or more before the hunt takes place. Predator hunts always come with a natural degree of danger and guides and outfitter groups who know the land and the local wildlife are already well versed on avoiding these dangers.
Whitetail deer usually bed down during the heat of the day and wake up near dusk to begin the feeding routine. Many hunters use hunting dogs to sniff out the deer and in theory, drive the deer back towards the waiting hunting party. Other methods include tree stands and ground blinds. Ground blinds are either natural, constructed with local brush and timber, or they are artificial. Artificial ground blinds are bought and can usually be customized for extra space, extra windows, silent entry points, and more. Deer can be taken down using rifles, large caliber pistols, or compound bows. 
Turkey hunting is almost exclusively done on the ground. Turkeys have extremely good eyesight and must be ambushed. Full camo and extreme caution are coupled with good intel and some luck to land a trophy beard. Our guides are very professional and will show uneducated hunters precisely how to locate bedding turkeys the evening before the hunt. This is vital because hunters have to know where the turkey are bedding in order to set up in an optimal spot. A shotgun is used to take down the turkey. The ideal shot will hit the turkey in the head thus preserving the meat and tail feathers.
A proper guide will know where to find hogs and hog hunting is all about numbers. Hogs destroy crop and property, and most states allow 30 or more to be taken per hunt. Outfitters usually supply a rifle and scope combination, as well as night-vision gear. 
Predator hunts are unique. While baiting is still used in many states, most guides and hunters use predator calls to bring a coyote into sight. Mouth calls and electronic calls are both employed. The idea is to set up overlooking a large chunk of flat and open land. An AR style rifle with a high-powered scope combination is usually employed, and hunters scan the horizon and take out coyotes from a considerable distance. 
Oklahoma Terrain and Animal Habitats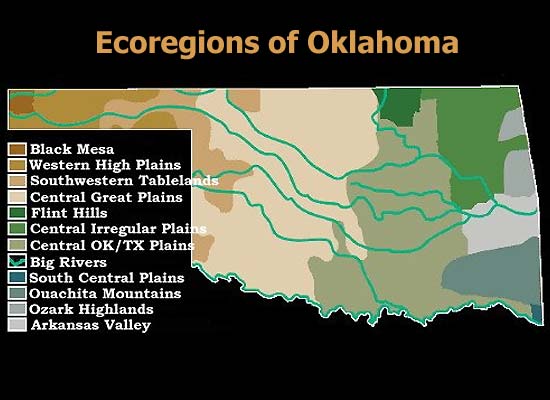 Whitetail can be found near oaks, cedars, and other bud and nut producing trees. They eat these nuts as well as corn and can be seen grazing in large open fields where corn has recently been harvested.
Hogs, coyotes, and even turkeys are technically all omnivores. Hogs and coyotes are very opportunistic and will eat any small or medium size animals they can find. Turkeys graze and usually feast on small worms, grasshoppers, lizards, frogs, and a variety of grasses.
Oklahoma Hunting Regulations
Hunting licenses are required for hunters over the age of 16. Tags are required for all hunts, even on privately owned land. Deer hunting season generally begins in late fall and lasts until early winter. Turkey season usually starts in early October and lasts through the middle of January of the following year. Predators and hogs can usually be hunted year-round. Our featured guides will assist when planning a hunting trip.
When planning your trip, note that Will Rogers World airport and Tusla International airport are the two main airports in Oklahoma. Your final destination will decide which airport would be preferable in your situation. 
Hunting is not the only outdoor activity in the Sooner's State. Oklahoma offers fishing, hiking, and other adventurous activities. If you're interested in obtaining more information about hunting, fishing, or anything to do with Oklahoma outdoors, visit www.wildlifedepartment.com!