Find Missouri Hunts on the Map
Find Missouri Hunting Guides on the Map
Hunting in Missouri
Missouri is a breathtaking state and offers a huge variety of game to hunt.  Our featured outfitters specialize in Whitetail Deer, Turkey, Hog free range hunting.  And our featured hunting preserve also offers limitless exotic game such as Ram (Mouflon, Coursican) Deer (Axis, Fallow, Sika) and Red Stag, Elk, Buffalo, and some big ole burly wild hogs and Russian boar.  That's just to name a few.  One big advantage to hunting in a preserve is the ability to hunt many species year round and the enjoyment of seeing a wide variety of game and activity.  Another is the advantage of saving time and money on travel and missed work.
Missouri Hunting Terrain & Habitat
Missouri offers a very diverse and beautiful landscape.  The Ozark Mountains are to the south and plains, grass lands and agricultural fields are scattered across the state.  Missouri provides a rich habitat for wildlife with a diverse number of food and water sources.  There are countless lakes, rivers, streams and tributaries that supply fresh water and hold the wildlife.  The east state boundary is the Mississippi River, and the Missouri river runs right through the middle of the state.
Missouri is a very rural state, but the three largest cities, Kansas City, St Louis and Springfield make it easy to travel to the hot hunting spots.
The state is divided into eight zones (or regions) to adapt to the conservation needs.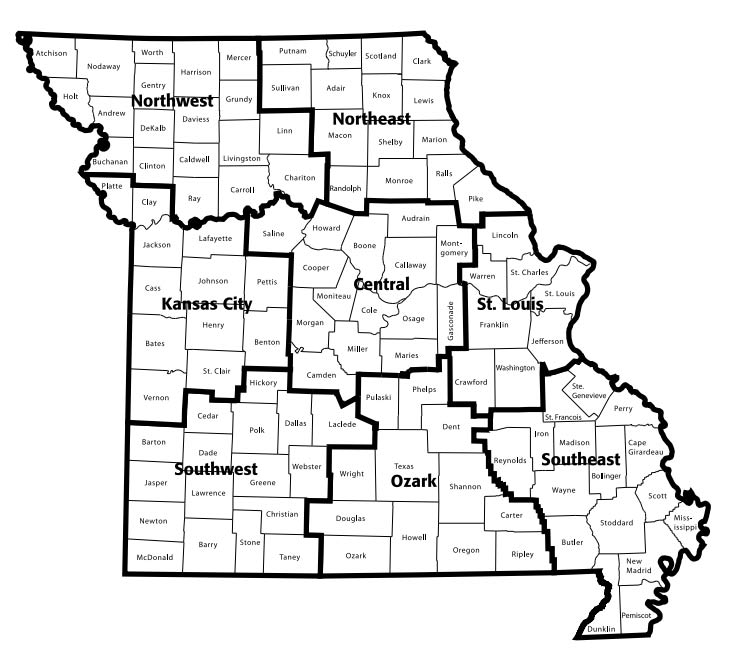 Missouri Hunting Permits & Regulations
The hunting tradition runs deep and conservation is a top priority for Missouri.  For about a century, serious efforts have been in place to recover threatened species and bring them back to healthy numbers.  The effort has paid off and the state has numbers of wildlife that it had 250 years ago.  Hunting permits are required to hunt in the state, unless the hunt is a licensed preserve.  Keep in mind that hunters born after 1967 are also required to take a hunter education course.
The regulations regarding season dates and permit needs are quite extensive.  Fortunately, one of our professional Missouri Outfitters will be able to guide you in the right direction.  The Missouri Department of Conservation publishes the current regulations.
Missouri Hunting Tidbits
Recent whitetail deer harvest numbers are over 256,000 deer. The state keeps excellent harvest records and breaks it down county by county, bucks, does and button bucks.
Missouri is the #6 state for Boone & Crockett Records!
The number 1 non-typical whitetail deer is from Kansas City, Missouri and scored an amazing 333 7/8″!
Turkey numbers are also good, running progressively higher numbers in recent years. 2013 harvested 46,000 gobblers.
In some areas of the state, communities completely shut down for the short rifle season. It is an event that hunters anticipate and arrange their lives and schedules to work around.
Missouri is a BIG hunting state! The original Bass Pro Shop got started in Springfield, MO.
Branson, MO is a fantastic destination to enjoy the attractions, music, Ozarks, hunting and fishing.
Missouri is a beautiful state to enjoy other outdoor activities such as fishing, camping, hiking, photography, kayaking and rafting. There is something for everyone in the family!