Find Alabama Hunting Guides on the Map
Alabama Hunting
With a wildlife population as diverse as the landscape, there are plenty of reasons for hunters around the country to flock to Alabama. There are more than one million public acres to roam and some of the most lenient state regulations in the country. Hunting in Alabama is as rewarding as in any other spot on earth.  For a custom hunting experience with the best odds for success, check out our Featured Alabama Hunting Outfitters and Guides.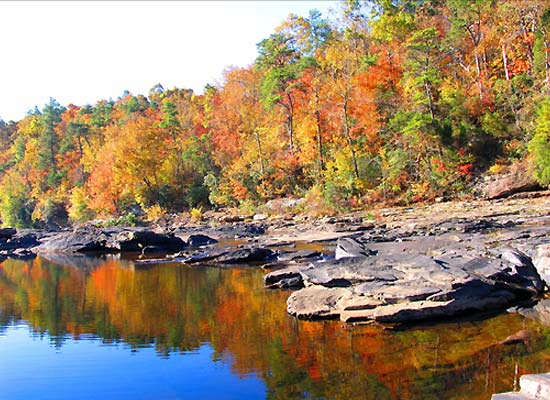 Alabama Hunts Available
Whitetail Deer are by far the most sought after game in Alabama and the annual harvest numbers prove it. Hunters kill in excess of 300,000 deer in the state every year. In the heavily wooded mountain regions to the north, many hunters wisely choose to use compound bows due to low visibility. In the valley and ridge regions north of the Piedmont, strong caliber guns allow hunters to reach out to animals four and five hundred yards away. Alabama uniquely offers an endless supply of highland valleys and ridges that accommodate most hunting styles.
In general, hunters tend to set up a tree stand or use hunting dogs. A tree stand offers extended visibility, which is critical alongside a large field or food plot. Running dogs can be an exhilarating experience. Ground blinds are also viable hunting options and can be set up and moved around relatively easy. Ground blinds offer hunters complete concealment and allow for a flat low trajectory shot path as well. Many hunters prefer to use a ground blind because of past injuries that make it difficult to climb trees using traditional ladder stands or climbing stands.Many hunters run dogs one time and never revert. Our guides offer insight on site-specific pros and cons to decisions like this. 
The second most popularly hunted game animal in Alabama is the Eastern Wild Turkey and constitutes roughly 500k hunting days yearly. Many turkey hunters in Alabama are fairly avid in hunting this game and appreciate the nearly six-week-long turkey season in the spring. 
Quail hunting in Alabama has changed due to farming methods and habitat changes but is still enjoyed as most hunters are turning to commercial quail hunting preserves. Another favored in the region is hog hunting, which is becoming increasingly popular. Feral hogs can offer an exciting hunt and delicious eating alike. More than a few WMAs or Wildlife Management Areas in Alabama make available the opportunity for hog hunter to sack a wild pig.
Alabama Hunting Terrain
Alabama terrain changes drastically from north to south. With tall mountains to the north and east and valley regions and coastline to the south, hunters have many hunting situations to choose from. There are 1.3 million public acres, countless hunting reserves, and thousands of camping areas that usually have a hunting lodge or two nearby. The deer in Alabama have an endless supply of pines, cedars, oaks, and other types of bud producing trees to feast under. 
Alabama Hunting Regulations 
Hunters in Alabama are required to report deer, turkey, and hog harvest numbers each year. Residents that are under the age of 16, those older than 65 and resident landowners are all exempt from general requirements concerning hunting licensing. Deer season for the south zone in archery is late-October through mid-February, whereas the north zone runs mid-October through late-January. Antlered bucks by stalk or dog hunting begins in late November and then again in mid-December and runs through late-January. More specific dates can be found at places like http://www.outdooralabama.com/hunting.
Alabama's Alternative Outdoors
Alabama offers residents and tourists many other outdoor activities. There are State Parks, many local shooting ranges, archery ranges, canoe trails, the famous five rivers delta resource center, Wehle Nature center, Weeks Bay reserve, and many community fishing programs.