Find Alaska Hunts on the Map
Hunting in Alaska
It goes without saying that Alaska is a beautiful state. It's big enough to be a country, and it's full of breathtaking scenes that are unmatched anywhere else on earth. While a variety of big game species are available to hunt in Alaska, our featured outfitters specialize in Brown Bear Hunts.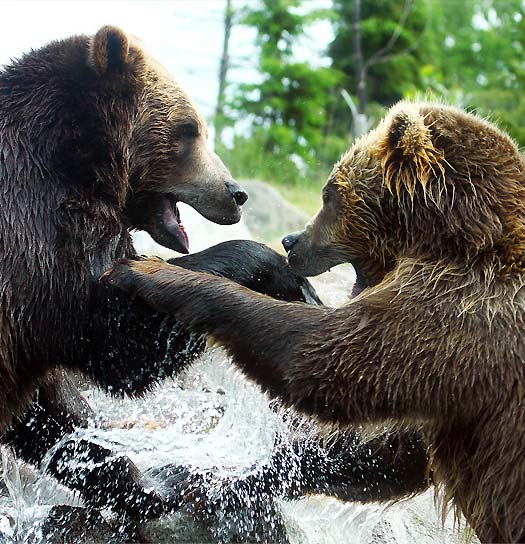 Alaska Hunting Available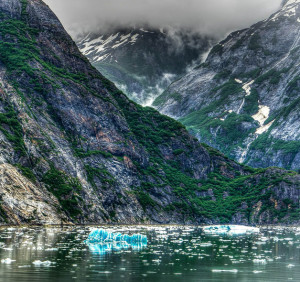 Alaska is blessed to harbor some of the biggest wildlife on earth. Hunters flock to the Last Frontier to get sights on the biggest Brown Bear on earth, Moose, Caribou, and predators like the Wolf and the Mountain Lion. Of all these big game hunts, the Brown Bear is the most popular Alaska hunt!
The hunting methods employed for Bear, Moose, and Caribou are very similar. Guides and outfitters will begin the hunt on a vantage point to locate a herd of Moose or Caribou, or to locate a trophy bear off in the distance. After the animal has been spotted, the stalk begins. These types of hunts can last for weeks at a time and require physical preparedness and patience.
Hunting predators of any specie brings an inherent danger. If you don't have a good understanding of the land and the local wildlife, it's even more important to take advantage of the services provided by guides and outfitters. The weapons most recommended when hunting predators vary from specie to specie. Our guides well versed and in some cases will supply necessary equipment, depending on the specie hunted.
Compound bows are often used when stalking Alaska big game, but particularly when hunting Brown Bear, a back-up weapon could be the difference between life and death. And Brown Bear are not the only dangerous game, so it is also wise to hunt with a partner or guide on these adventures!
Alaska Wildlife Habitat
Brown Bear can often be located near water sources and in mountain forests or highland areas. Bear of all species will graze on various types of vegetation, nuts, fruits, and berries. Brown bears are especially large and some of the largest Grizzlys in the world are found near the Alaskan coast lines and other areas of water. Brown bear are unique because, unlike Black bears, Brown bears will commonly take down Moose and other large animals. While both species are omnivores, it's rare to see a Black bear take down an animals that large.
Alaska harbors such large animals because of the extreme temperatures and the terrain. Alaska's terrain is perfect bear habitat and an abundance of small to large prey allows the bears to reach outstanding weights and heights.

Alaska Hunting Regulations
Residents of Alaska who are under the age of 16 do not need to purchase hunting or fishing licenses to participate. Non-residents under the age of 16 don't need fishing lisences, but they are required to purchase hunting licenses. These regulations apply to trapping as well.
In general, most hunting seasons in Alaska begin in August and September, and run through late October. Due to the size of the state and the number of GMUs (Game Management Units), specific hunting dates are vast.
Our guides and outfitters can greatly assist in planning your hunting trip to Alaska, but for more detailed information on regulations and hunting seasons, visit www.adfg.alaska.gov.
Alaska Hunting Tidbits
Juneau is Alaska's capital. The three main ports of entry are the major airports in Juneau, Anchorage, and Fairbanks. Anchorage is the largest city in the state and within it sits the Ted Stevens Anchorage International Airport, the busiest and largest airport in the state.

While it may seem to cost extra up-front, employing the services offered by our guides and outfitters may save money in the long run, The experience pre-hunt with regulations and tags, the assistance in travel, lodging, meals, and expert knowledge of terrain and successful hunting methods, tracking and transport make hunting with a pro a smart move. The costs and risks are too high to take a chance on a poor hunt.

World Record Brown Bear was taken on Kodiak Island, AK, scoring 30 12/16 – (I would have claimed 31″) We couldn't find a good pic of the record book brown bear, but you can imagine, it was HUGE! Mammoth-sized bear are taken each year with our featured outfitters.