Find a Turkey Hunting Guide
Choose an Area
for Turkey Hunts
Turkey Hunting Pros
Turkey Hunting with Pro Guides and Outfitters
There 5 general species of Wild Turkey. They include:
Osceola Turkey, found in the state of Florida
The Eastern Wild Turkey, found in South Carolina, Georgia, North Carolina, Kentucky, Missouri, Illinois, all the way to Kansas
The Merriam Wild Turkey, which is primarily in the Western States
Rio Grande Turkey in Oklahoma and Texas
Finally the Gould's Wild Turkey in Central America.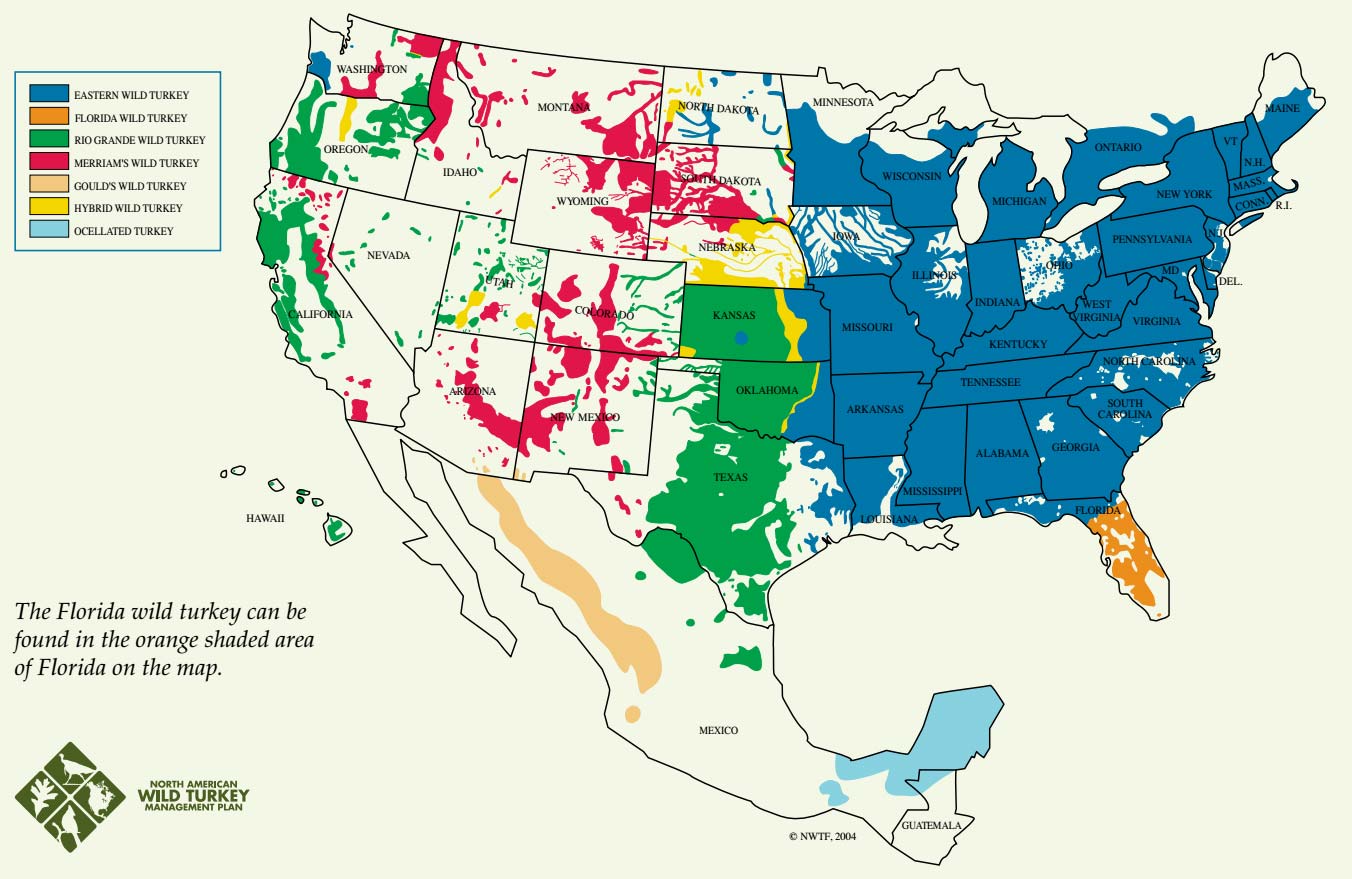 Collecting all species gives you the title of "Turkey Grand Slam" holder. It may require some travel and time, but it's well worth the investment to experience hunting in such a variety of locations for such a challenging species. Weight of the bird, size of the spurs and length of the beard (or beards) are all part of measuring a trophy sized gobbler. But more importantly, the effort that goes into the hunt.
Turkey Hunting has somewhat of an addictive quality about it. Once a hunter has the habit, they will be practicing their clucking and purring, sighting in their shotguns and looking forward to next spring. Most states have spring turkey hunting seasons, but a few also have fall.
What makes turkey hunting so habit-forming? Well, just ask any turkey hunter and you'll probably get a different answer. For some, it's the thrill of romancing that big gobbler out of the trees buy gently calling. For others, it's the love of nature and enjoying the sights and sounds of spring time on a crisp, bright morning. And anything can happen during a turkey hunt. That time of year, the woods are alive with action. Fox, bobcat, squirrels, deer and an array of birds are flitting and frolicking about. But whatever the attraction, there are some tried and proven methods that are consistently used for success. Hunting outfitters and guides featured on World Class Outdoors will be well aware of these techniques and can be very helpful at teaching successful calling and hunting techniques.
Turkey Hunting Preparation
Enjoying a successful turkey hunt starts long before the actual hunt. Food plots are used to attract and hold the turkey in the area. And pre-season scouting and trail cams will help locate the turkey and know where they are roosting at night. Also, hone your skills with your weapon. Shot guns are the most commonly used weapons, but bowhunting has also become quite popular for turkey hunting. A typical shot size is 4-6.
Be prepared for safety by using snake chaps and bug repellent. If allergies are a problem, take an antihistamine to enable you to be quite during the hunt. And of course, if you are hunting in an elevated stand, make sure to use safety straps.
Turkey hunts start before daylight, when the birds are still in the trees. A great technique for getting to you hunting area early is by pre-marking your trail with very small tacks with reflective tape on them. You will be able to get in very early and quietly if you know exactly where you are going. A convincing owl sound will sometimes let you know where they are located, because they will call back. And during mating season, sounding like a hen will occasionally draw the gobbler into range or get him riled up enough to strut and gobble for you. A gobble call can make a dominate gobbler come out to protect his territory.
The Wild Turkey has incredibly keen eyesight, so having the appropriate camouflage for the area is definitely a requirement. Hunting from ground blinds or shooting houses are a good bet so they don't see you or notice slight movement. A lot of hunters simply use excellent camo techniques and still hunt sitting against a tree. Hide everything – skin, boots, gun or bow – everything. And using a quality well-placed turkey decoy is another very effective strategy.
Turkey also have amazing hearing, especially during mating season, when they are on the prowl for a girlfriend. At times this will blow your cover, but a good hunter can also use this to their advantage by perfecting calling techniques. In any case, being quiet and still are vitally important to the success of a hunt. If you are taking a young hunter, be sure to instruct them on this. Or make it less of a factor by using a shooting house.
Oftentimes, when hunting with a guide's help, a shooting house or large blind is used in a pre-scouted area so there is room for both of you.
A close friend was taking his 5 year old daughter out scouting and heard a flock of turkeys over the rise. He began to gently cluck and purr, trying to bring them in for her to see. He said, "you give it a try" and as loud as she could, she yelled, "cock-a-doodle-dooooo"! That sure did stir them up!
Many of the hunting guides, outfitters and lodges featured on World Class Outdoors offer excellent turkey hunts. It is for them a true passion. Oftentimes other game species and even fishing can be combined with the hunt to make it truly an exceptional experience. Please contact the turkey hunting guides and outfitters listed for information on season dates, hunt availability, costs and accommodations.