Ohio Bow Hunting Outfitter
Whitetail Deer and Turkey Hunts
About Ohio Bowhunting Outfitters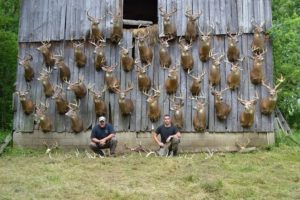 Ohio Bow Hunting Outfitters is owned and operated by Bill Pyles, with over 60 years hunting experience in the state of Ohio.
Bill says, "My hunts are 100%  fair chase, 100% heart-pounding bowhunts. We make no guarantees on harvest but we do guarantees to give you a memorable Hunt in areas that are managed for bow hunters by bow hunters."
We accept ALL MAJOR CREDIT CARDS.
Our  Turkey hunts are fully guided with guides who have over 40 years and several Gobblers under their belt. Our hunts are both Bow and shotgun. All now hunts are out of blinds, and our shotgun hunts are prime run and gun. Lots of birds and lots of action!!! Come enjoy Ohio's Thunder lips with Ohio Bow Hunting Outfitters. Limited number of hunts available.
Whitetail Hunting with Ohio Bow Hunting Outfitters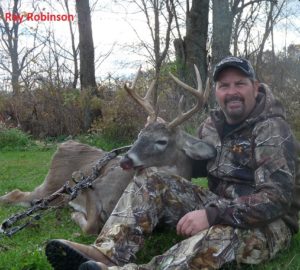 Whitetail deer hunting in the state of Ohio is a unique experience, especially in Central Ohio. The whitetail deer has a diverse system in which to grow trophy status.
With land ranging from Small tracts of timber, wooded fence rows and thick Creek bottoms surrounded by agriculture to large tracts of timber covered with oaks and all the browse and cover needed to grow world class whitetails.
Ohio Bow Hunting Outfitters has two main goals:
To give our clients are quality whitetail hunting experience to remember and an opportunity at a Trophy whitetail.
The managing and stewardship of our whitetail deer and our properties by implementing a mineral and food plot Managment system for overall herd health.
So if you are looking for a quality whitetail deer hunting experience give Ohio Bow Hunting Outfitters a chance to make it your best whitetail Hunt ever!
Hunting Area for Ohio Bow Hunting Outfitters