Mississippi Hunting Guides
Find Mississippi Hunts on the Map
Mississippi Hunting Available
The state of Mississippi offers many outdoor adventures, and hunting is a big part of life for those who call Mississippi home.  The big bucks are the big deal.  Whitetail Deer hunting is the main attraction and some really nice deer are taken in MS every year.  Next on the list is hogs.  Wild Hog – boar hunting is not only fun and exciting, but it is also necessary to protect property and crops.  Spring Turkey hunting is also a high priority for hunters in MS.  In a few zones, there is a draw for Alligator hunting.  Predator hunting for bobcat, coyote, fox and small game including squirrel, raccoon and rabbit are also a part of the mix.   Of course, Mississippi offers some incredible duck, goose (waterfowl) hunting.  Mallard, Pintail, Woodduck are among the most sought-after duck species.
Options to Hunt in Mississippi
Along the Mississippi, the Big Black and the Pearl Rivers, Whitetail Deer seem to thrive and grow to their largest rack and body sizes.  In Mississippi, there are a lot of private hunting camps, and quite a few professional outfitters that manage their land in order to bring their local game to their fullest potential.  These professional guides furnish comfortable hunting lodges, warm hospitality, and pre-scouted property complete with food plots, shooting houses, and elevated stands all strategically located to maximize your chance at a quality deer.
Mississippi Department of Wildlife also maintains public hunting areas called GMUs.  These tracts of land can be hunted by the public, but several are available only to draw winners.  Some are bow hunting only.  On the GMUs, hunters cannot plant food plots, leave stands or have any say-so about what other hunters choose to kill.
MS Terrain & Wildlife Habitat
Mississippi has 3 hunting zones, following the natural terrain and land features.  It also allows for different season dates and legal buck specifications.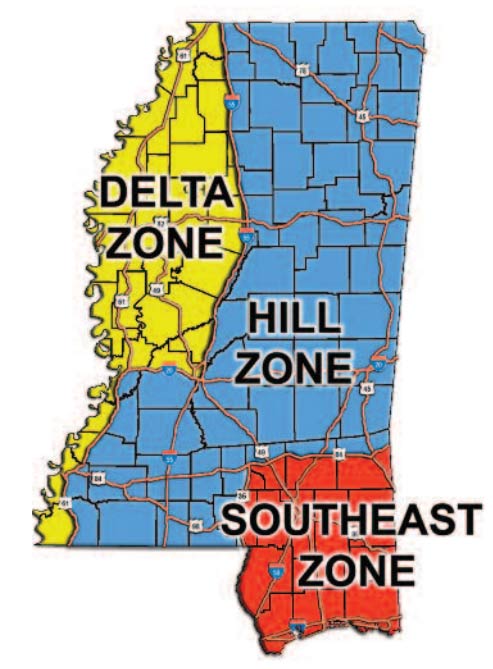 The Southeast Zone, shown below in red, includes the coastal counties.  Whitetail Deer in this region are plentiful, but are not usually as large as the deer in the northern counties or along the Mississippi River.  Hog, Turkey and Duck hunting is excellent in these counties because of the rivers that flow into the Gulf.  The coastal areas are very flat, have sandy soil, and most of the woods are pines with a few hardwoods.
The Hill Zone is the eastern part of the state and it is very rural, forest covered, with rolling hills and valleys.  It is excellent habitat for all hunting game species.  This zone has more hardwood forest with fewer pine trees, but much of the land is managed for timber.  There are some really nice bucks taken every year from the Hill Zone!
The Delta Zone is flat and very agricultural.  The Delta is famous for waterfowl hunting.  Being the southern part of the migration of the Central Flyway, the ducks, geese and other migratory birds come every year.  Fields are flooded, retrievers are trained, boats are camouflaged, decoys are scattered and the fun begins!  The delta region also offers fantastic deer, hog and turkey hunting.
Mississippi Hunting License and Regulations
A hunting license is required for Mississippi hunting.  MS is not a draw state, so all licensed hunters are welcome.  There are seasons specified for Youth, Archery, Primitive Weapon and Gun.  Recently, the crossbow was added as an approved primitive weapon.
Season opening dates vary from year to year but typically, Archery season opens the first of October, except for the Coastal Zone which starts mid-October.  Deer season runs through the end of January.  Peak rut is earlier in the northern zones than the Coastal Zone.  If you are looking to hunt the rut, find out from your hunting guide the peak for the area you intend to hunt.
There is statewide Spring Turkey Hunting, but the fall season is limited to just a few counties.  Spring turkey hunting is something most hunters really enjoy because the beauty of spring is all around with the blooming Redbuds and Dogwoods, not to mention the bright green foliage of the new growth.  There is a lot of wildlife activity during turkey season, so quite often, bobcat, fox and other small game are seen.
More extensive research and hunting licence information available at Mississippi Wildlife, Fisheries & Parks.
Mississippi Hunting Tidbits
Current numbers for Whitetail Deer are at about 1.75 million in the state of Mississippi – that's a lot! There is only 3 million people in the state!  That makes the odds pretty good.
BIG bucks are taken every year with the typical record book bucks averaging 175 to over 200"
Non typical bucks up to 300" have been taken in MS
Wild hogs can be hunted year round and are considered "nuisance" wildlife – and so are coyote, beaver, fox, nutria and skunk.